Roca presents at Casa Decor an oneiric journey in an immersive space inspired by the metaverse
13/04/2023
Created by the designer Isern Serra "Mediterranean Metaverse: an oneiric journey" is a unique and innovative experience that immerses visitors in a surrealist world of captivating images inspired by the colours and lights of the Mediterranean.
Roca continues to innovate with its participation in the most pertinent events in the design, architecture and product design sector. On this occasion, Roca presents a digital and immersive experience at Casa Decor (Madrid, 13 April - 28 May), transporting visitors to an oneiric, magical and surrealist world. Isern Serra has created an "infinity room", a room full of mirrors in which the audio-visual creation is projected ad infinitum, brining Roca's bathroom collection Ona to life like a character in a story. The space is covered with the Abaco Arena ceramic collection.
The idea and concept are the work of designer Isern Serra (Barcelona, 1981), the person behind the redesign of the Barcelona Science Museum, Cosmocaixa, and the MOCO Museum concept store, among others. His works have been presented in major cities including Barcelona, Milan, Paris, Dusseldorf, Mexico City and Beijing. For this commission, Serra highlighted "the great freedom and absolute trust" he had in developing his idea, which "was a sure bet" from the beginning playing with feelings without showing the product, because since the product is not in sight, it was possible to play on sensations.
The space is based on the circular element, a metaphor for a drop of water, as a union between the physical and the ethereal, and raises the vision of a new world through a sensory journey, made thanks to the audiovisual piece created by the artists Julia Ippolito and Joe Mortell under the artistic direction of Isern himself and Aasheen Mittal.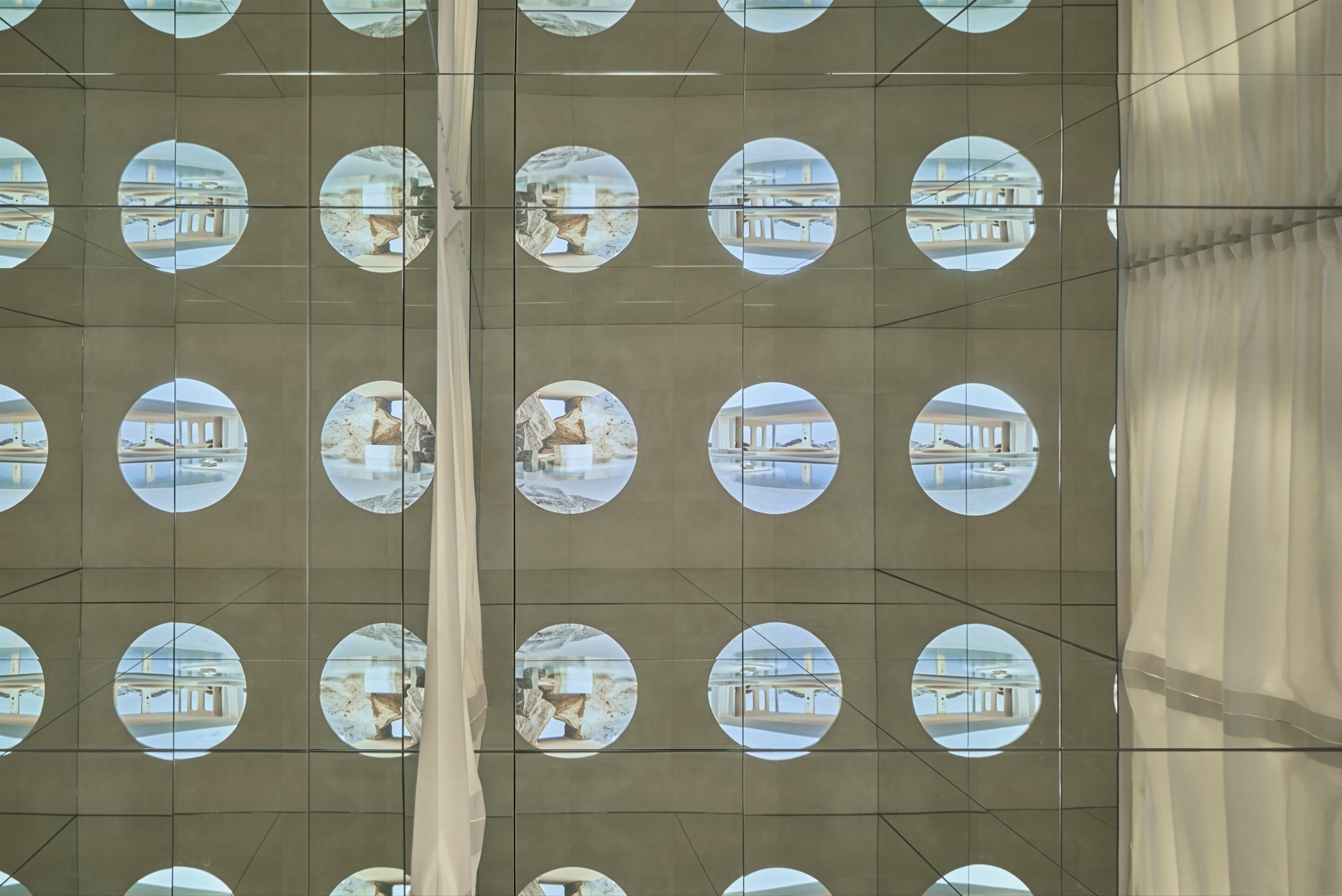 The film, with retro-futuristic aspects and references to organic architecture, reproduces oneiric landscapes inspired by the light, colours, and textures of the Mediterranean.
Roca's installation presentaed at Casa Decor is an innovation in itself with regards to what is normally displayed at these types of design events: the brand does not present a product, rather it presents an experience in which the product, just like the visitors, is a character in the journey. For Marc Viardot, Roca's Corporate Marketing and Design Director, "Isern Serra's proposal transfers Roca products to the Metaverse. This immersive installation is surprising and opens new perspectives".
True to its commitment to sustainability, Roca has developed a completely reusable installation that can be dismantled and installed in other locations..
El espacio está revestido con la colección de cerámica Abaco Arena.
About Isern Serra
Since he opened his studio in 2008, Isern Serra has carried out projects in interior design, exhibition installations, and industrial design. He combines his professional career with teaching and leading workshops at Elisava and IED. His clients include public institutions such as Sala Canal Isabel II, the BCD, Palau Robert and private entities including "laCaixa", CaixaForum, CosmoCaixa and Mediapro.