Fuorisalone 2023
Roca returns to Fuorisalone with a pavilion by Benedetta Tagliabue - EMBT Architects
Università degli Studi di Milano
START: 17-04-23 | END : 23-04-23
Nutura Pavilion can be visited from the 17th to 23rd of April in the courtyard of the Università degli studi di Milano (Via Festa del Perdono 7, Milan) within the framework of Fuorisalone 2023.
After a successful previous edition, Roca returns to the prestigious Milan Furniture Fair. Participating in Fuorisalone from the 17th to the 23rd of April, Roca will present Nutura, a pavilion designed by Benedetta Tagliabue – EMBT Architects, inspired by the light and textures of the Mediterranean. A sinuous and multisensory passage between undulating wood and ceramic walls where pylons and shutters create a game of lights, shadows and textures.
The name of the pavilion is a blend of Roca's latest collections, Nu, designed by Inma Bermúdez (National Innovation and Design Award 2022) and Tura, by Andreu Carulla.
A subtle reference to these two new collections can be found on the floor of the pavilion made up of ceramic tiles by the ceramist Toni Cumella. Combining technology and tradition, Cumella created tiles with allegorical drawings of Nu and Tura.
The booth natural materials contrast with a digital creation by the artists Julia Ippolito and Joe Mortell. "Mediterranean Metaverse: an oneiric journey" presents a third bathroom collection, Ona, through a surrealist world of captivating images inspired by the landscape, colours and light of the Mediterranean.
Nutura can be visited in the courtyard of the Università degli studi de Milano, within the framework of INTERNI Design Re-Evolution exhibition-event.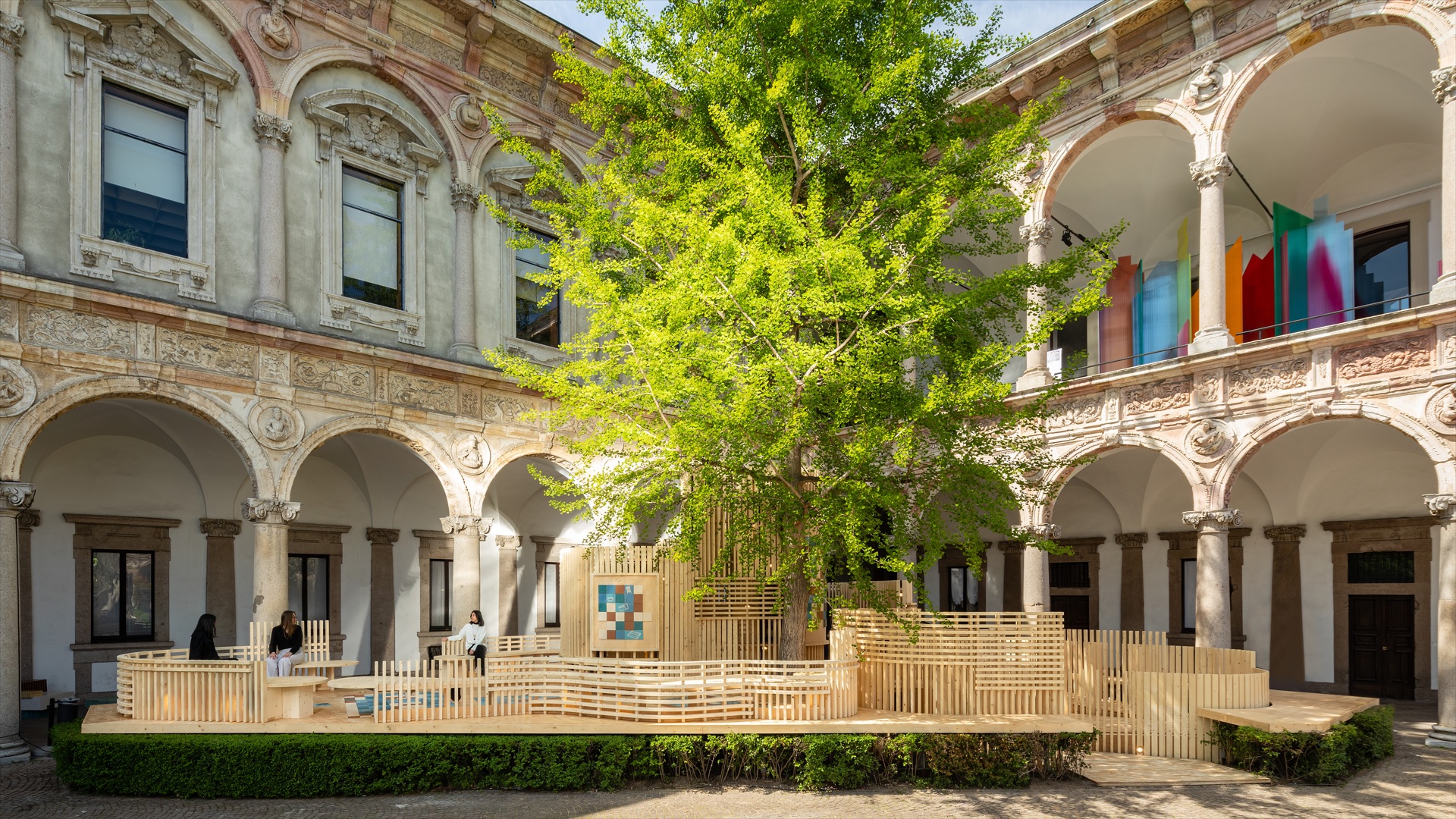 About Benedetta Tagliabue – EMBT Architects
Benedetta Tagliabue is the lead architect and director of EMBT Architects, founded in 1994 in Barcelona with Enric Miralles, with offices in Barcelona (HQ), Shanghai, and Paris.
Her most notable works include the Scottish Parliament in Edinburgh, the Santa Caterina Market, the Headquarters of Gas Natural Fenosa and Diagonal Mar Park in Barcelona, the Spanish Pavilion at the World Expo Shanghai 2010 (winner of the RIBA Best International Building 2011 Award), the Kálida Sant Pau Centre in Barcelona – Part of the Maggie's Centres International Network.
Recent works include the Church and Parish Complex 'San Giacomo Apóstolo' in Ferrara (awarded with the Dedalo Minosse International Prize 2022), the Ceramiche Ragno Flagship Showroom in Milan and the ChinaTrust office tower in Taichung. EMBT Architects is constructing the Fudan University Business School in Shanghai, the Clichy-Montfermeil metro station in Paris (first prize in the competition) and the Naples Underground Central Station.
In the academic field, Benedetta Tagliabue is visiting professor at Harvard University, Columbia University and ETSAB in Barcelona. She is a member of the jury of such prestigious international awards, as the Pritzker Architecture Prize (since 2014), the Princesa de Asturias de las Artes (2011–2022), and the Loewe Craft Prize, among others. Moreover, her work has earned her the RIBA Stirling Prize (2005), the National Spanish Prize (2006), the Catalan National Prize (2002) and the FAD (2000, 2003, 2007). She is the director of the Enric Miralles Foundation.